Sydney is an expensive city. If you plan on eating out every single meal, every single day, you are going to be taking a pretty large financial hit. Eating out in Sydney really comes down to WHERE you eat, and WHAT you eat. Here's a general rule of thumb: think of eating in terms of real estate. If you have a good view, see the harbor, are on a roof top…expect to spend more than you would if you are on a café near a main road or down an alley. There are certainly exceptions to this, but that is a general rule.
BREAKFAST
For breakfast you can usually find little cafés that will offer bulk "specials" from $5-$10 dollars. When you look at their menus, they'll have pancakes, waffles, and more breakfast foods for much higher prices, so if you are on a budget I suggest looking for these specials. They'll usually include eggs, bacon/sausage, toast, and grilled tomatoes or mushrooms. It's a pretty good deal for $5.
One of the best places I've found for these kind of deals are in areas further out from the CBD (Central Business District). Places like Kings Cross, Surry Hills, Glebe, and Paddington. Those districts will have little cafés that offer these deals and advertise them. Trust me, you will see the advertisements.
LUNCH
Now when it comes to lunch, I would stick with the same rule that I stick with traveling in any country. Have lunch be your biggest meal … because it is going to be the cheapest meal for such a large amount. This is definitely the case in Sydney.
You can find little cafeterias or food courts all throughout Sydney and they will always have three specific cuisines: Thai, Indian, and Chinese. Without fail, I have always seen these. This is truly an Asian food lovers paradise.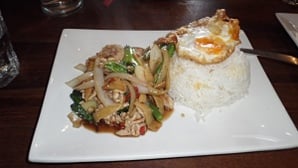 It really doesn't take long to find a food court or area for food ranging from $10-15, that will offer filling, large portioned food. Some of the best locations are Westfield Mall's food court, and on George Street. These areas typically offer good choices. That being said, if you MUST have a sit down lunch in a typical restaurant, expect meals to usually go along the guidelines I wrote above.
DINNER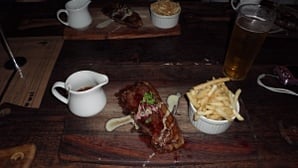 Dinner is going to be expensive. It will be pretty hard to find a place that isn't serving a meal from $18-40. However, one thing that my friends and I have found ourselves doing is splitting large pizzas. Pizza is pretty good in Sydney and fairly large. As a result, we often find ourselves splitting the cost of one pizza between two people if we ever go out. That gets old after a while, however, so at that point you have to start looking for specialty nights.
In Sydney, many restaurants will have specific nights where they have STELLAR deals on their menu. For example, The Village at PottsPoint – near Kings Cross – has an entire weekly schedule of good deals. On Monday they have 50% off everything on their menu, Wednesday $5 for any of their amazing and filling pizzas, Thursday $5 for their classic steak and chips, and Saturday $18 for a pitcher of one of their jugged cocktails – which are usually $28. This place is phenomenal, has a great vibe, and these awesome deals. These are the kind of places to look for.
BASIC TIPS:
TAKE AWAY – Tip #18 Liberty or Food
But, Jon? What if I really want the food from that fancy looking restaurant on the wharf? Hey, guess what, many of the restaurants in Sydney that are frequently visited by tourists will have an area adjoined to them that has a limited menu for take away. You can buy some of the cheaper options, and go sit in one of the MANY parks throughout Sydney and enjoy your meal. But remember, cheaper is a relative term and only means cheaper for Sydney standards.
TIPPING CULTURE – Tip #22 No Worries
Australia is not a tipping culture like in the US. Basically, tip only if you have had exemplary service and are at a real fine dining restaurant. Otherwise, pay the bill and move on.
PAYING THE BILL – Tip # 99 Carry Cash
Speaking of paying the bill, the Aussie's have an awesome system. For many restaurants you don't order at your table, you order at the register and pay up front at the register. This avoids the need for a server to come get your order for you and pester you every few minutes.
However, for the restaurants that don't do this, you may still have to pay at the register once you've finished with your meal but often times, your check will NOT be split based off what you specifically ordered. Your entire group will be treated as one bill. Aussie's are very nice and accommodating and will occasionally split the check at the register for you.
Why not be a nice tourist, though, and just make sure all of you have the money to go out and eat at the venue beforehand. Remember, always carry a healthy amount of cash on you if you are eating and venturing with a group.
Want to spend some time in Sydney? Check out how our program works!
Follow Jon on his adventures via his personal blog.