Global Experiences Program Consultant Carlie Kidd had a life changing experience in Sydney.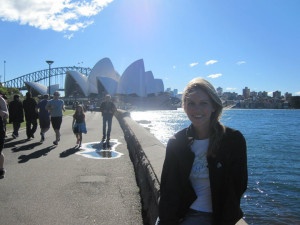 I never thought I would have the chance to live and work in the Land of Oz. I didn't realize how amazing Sydney, Australia was until I had the chance to explore the neighborhoods and back roads of each different area in Sydney. Walking around and exploring Darling Harbor, Circular Quay, Kings Cross, Glebe, Surry Hills, Bondi Beach and other areas really made Sydney feel like home. I'm a city girl but I also love the beach. Sydney has the best of both worlds!
I worked at a restaurant in Kings Cross. This area has a young vibe as it has many restaurants and bars. World Bar and Hugo's Bar Pizza are must-go's. On Sundays, Hugo's Bar Pizza offers half price drinks and $5 pizzas. Hugo's is a lounge with a DJ and a relaxed atmosphere. If you're looking for live music, you should check out Upstairs at Beresford in Surry Hills. They have live music every Friday and Saturday. Also, El Loco is a Mexican cantina in Surry Hills that has cheap tacos and a fun vibe.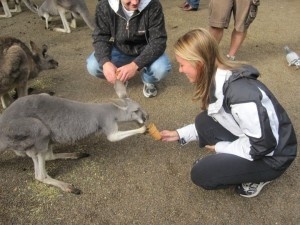 After a day of school and work it was nice to go hang out at Bondi Beach. Bondi markets on Sunday mornings are a lot of fun. My roommates and I would walk through the beach shops and different venders along the strip. We really liked to hang out at Vue restaurant on the rooftop lounge over-looking the beautiful white sandy beach. The most popular coastal walking route in Australia begins in Bondi. Some days we would walk over to Tamarama beach, which is more secluded, and would have a picnic or BBQ. Beaches are all over; if you want to steer clear of Bondi, Nielsen Park is phenomenal and also low key.
One of the surreal experiences of living in Sydney is visiting the beautiful Sydney Opera House in Circular Quay. I saw my first opera, The Marriage of Figaro by Mozart, at the opera house. They have discounted tickets for students! If you go to the opera house on the day of the performance and it's not sold out they discount student tickets. I paid $25 for $300 seats and sat center stage 10 rows back from the stage.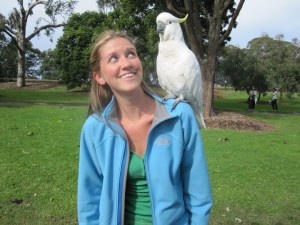 Other fun things to do around the city would be the Sydney Harbor Bridge climb; I guarantee there's no feeling like standing on top over looking the whole city! You can visit the Royal Botanical Garden and feed the cockatoo birds that will climb right on to your shoulder. Or visit Centennial Park to rent bikes and cruise around; it's a forest paradise in the city. Shop around China Town or Paddy's markets. Take a boat ride to Cockatoo Island. Try eating Kangaroo! Visit Luna Park, which is an amusement park. Catch a movie at the largest I-Max or go take surf lessons at Bondi or Manly beach! No matter what activities you like, Sydney has all kinds of indoor and outdoors activities!