Global Experiences is pleased to be counted as a finalist once again in the GoAbroad Innovation Awards, for the title of "Innovative New Program – Internship." This award honors "an inventive program in study, internships, and volunteering abroad that provides a unique opportunity for student learning and cultural engagement." We are honored to be in the running with such fabulous company!
So, what's the big deal? Here's the scoop on our Accelerated Internship Abroad Experience.
In 2016 Global Experiences was challenged by Rochester Institute of Technology (RIT) to create an accelerated internship experience in their January term that would inspire STEM majors to go abroad, all the while meeting the co-op credit requirement to graduate.
Replicating and accelerating the education seen in our longer programs required a new approach, thus creating an intentional cycle of learning - experience - reflection. Dublin was selected as an ideal host city for its cultural accessibility and unique focus on entrepreneurship that appealed to a wide range of majors. The design process resulted in a high-intensity experience combining three elements: Strengths-based Career Development, Entrepreneurship training, and Cultural Immersion. GE worked closely with the head of Co-op Education at RIT and an Entrepreneurship education expert in Dublin to ensure goals were achieved.
The Accelerated Internship Abroad Program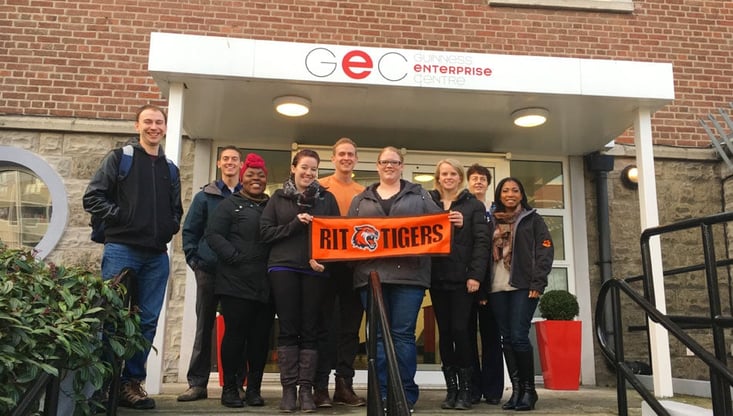 Students from the Rochester Institute of Technology outside the GEC enterprise office in Dublin, Ireland.
Officially announced in Summer 2016, the program attracted diverse interest from RIT students who were new to travel abroad. Prior to departure, the group completed the Gallup Strengths assessment and discussed their individual profiles. On-site, students were challenged to use their Strengths as both individuals and future entrepreneurs. Students spent time between interactive sessions with an entrepreneurship trainer, targeted cultural experiences, and sessions with businesses and entrepreneurs. The learning was centered around 3 topics: Doing Business in Ireland, Innovation in Action, and Issues in Building a Business.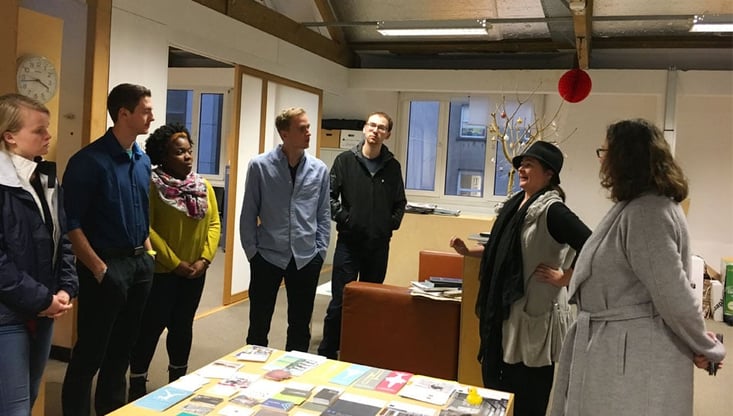 Students from the Rochester Institute of Technology listen in on one of many business and entrepreneurial sessions.
The Value of an Internship Abroad
Outcomes for students were significant and each participant's gains were unique.
"The program surpassed my expectations. We were able to learn the general context of entrepreneurship and understand its real world application." Heather C., Rochester Inst. of Technology - Engineering Major
"This was a well constructed course. The instructor was extremely knowledgeable and the Location Coordinator was very quick to answer questions and set up different appointments." Joseph H., Rochester Inst. of Technology - Informations Systems Major
"I found it extremely beneficial and an eye opening experience." Hannah M., Rochester Inst. of Technology - Advertising Major


All participants reported that they had learned new skills, gained confidence, and built global competencies. Many shared that they were inspired to travel, and some have already received job offers based on their new entrepreneurship skills! Information Systems majors gained firsthand exposure to new ways businesses organize their information. Business Management students learned the steps toward starting their own business, while IT and Engineering majors witnessed an innovative production line at work.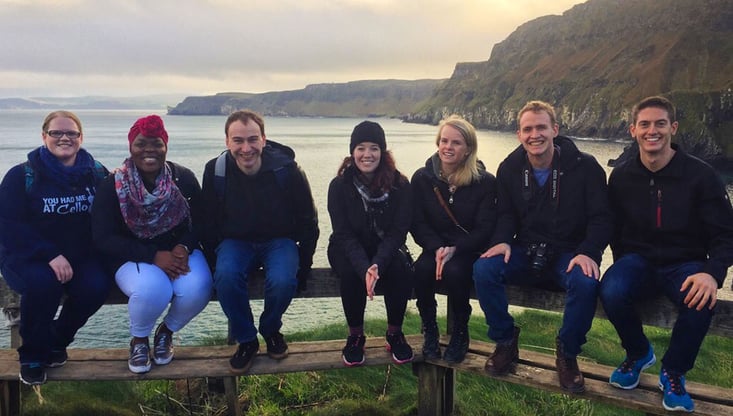 Students from Rochester Institute of Technology were not only able to work with industry leaders in Dublin, but also got to travel around Ireland.
The initial year's success has challenged traditional conceptions of what an international internship looks like, and provides a path to new design models that encourage even higher participation. The GE team is excited to see this program grow and evolve in the years to come.
Stay tuned for the results, following our attendance at the NAFSA Annual Conference in Los Angeles, CA this May!