For the second year in a row, international internship provider Global Experiences has won the GoAbroad.com Innovation Award for its internship programming. In 2014 the company received the award for its partnership with Gallup Education and its implementation of the Clifton Strengthsfinder assessment for professional development coaching before, during, and after programs.
Emily Merson and Jessica Burns accept the award.In 2015 Global Experiences won the award for its Dublin-based "Project Innovation" entrepreneurship program. An eight week program, Project Innovation immerses interns in Ireland's startup community, where they intern with entrepreneurial organizations, tour various multinationals, and attend panel discussions hosted by Irish employers. The program culminates with a "Shark Tank"-like competition where interns are tasked with pitching an innovative business plan to real CEO's and entrepreneurs. The program was a hit in the summer of 2014 with students touring IBM's Smarter Cities campus, Facebook, and a number of other innovative companies.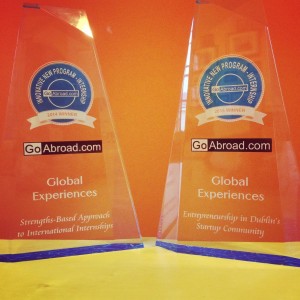 In the summer of 2015 a larger group of students, from a diverse collection of career fields, will immerse themselves in the startup community where they will establish connections, confidence, and insight on what it takes to flourish in the world of business. Global Experiences staff members Emily Merson, Stephen Reilly, Melissa Vivian, Carri Orrison, Jessica Burns, and Alex Paisner were all on hand at the annual NAFSA conference in Boston to accept the award.
"We're really excited and humbled to have won this award two years in a row," said co-founder Emily Merson. "We work incredibly hard to provide great programs for our students, and it's nice to see the community acknowledge and appreciate our work as well." Members of the GoAbroad Academy, a mix of university administrators and program providers, selected the winner from a list of five finalists. Overall GoAbroad received a record number of over 300 submissions for its 2015 awards.