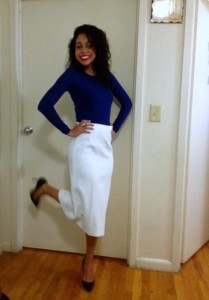 Jess is perusing her Masters in Public Relations and Corporate Communications at New York University. She is currently interning in Barcelona, Spain in an international public relations agency. Below is a post from her personal blog which you can follow here.
"I landed in Barcelona on Sunday June 1st, and not to sound cliché, but it was really love at first sight. Despite the adversity I faced arriving in a new country, I still can't stop smiling here, and that's a feeling that I hope to continue to carry throughout my time here.
So what adversity am I talking about? I only have three days in Barcelona. Well a new country is an adjustment, but besides getting use to things like the small coffee size, how small the showers are, and how slow people walk compared to New York City, a lot of things went wrong my first day in Barcelona. First I had the wrong address to my apartment, in fact the building number that they gave me did not exist, so I walked around carrying (honestly it was more like pushing, kicking, throwing) around 100+ pounds worth of stuff. After finally calling my location coordinator and sending two desperate voicemails, she responded and found me, said that it was a miscommunication, and walked me to the right place.
Second thing that went wrong my first day, I left my European adapters at home. With my phone and laptop on 10% I had no way to charge them. In addition to that, I arrived on a Sunday and most stores in Barcelona are closed on Sunday. Every store around me was closed. So instead of unpacking and resting, I decided to walk around. I found a train station and took the metro to the center of the city where all the tourists are, and I found a marketplace selling adapters for 2 euros. (I was so happy! And tired, but mostly happy!)
I found myself jet lagged and my body was exhausted from my trip, but I was too excited to lay down. I decided to meet with other interns and explore Barcelona a little. We walked through Las Ramblas, and the pier in Barceloneta. Enjoyed tapas, wine, and a fun Barcelona ice cream shop called eyes cream and friends.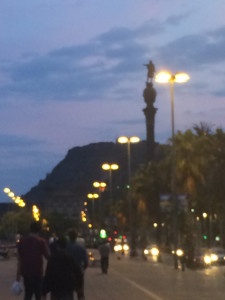 I stayed out later than I had planned. It was 11:30pm and when I got off my stop on the metro and I looked around and nothing looked familiar. Yup, I was lost. The streets were a bit dark, and I forgot which way I had to go. My stomach turned as I desperately walked through small pathways and crossing streets but still nothing looked familiar. I said to myself "Toughen up Jess! You're a New Yorker!" I started asking for directions by approaching strangers street to street until I found my road, and half an hour later I found my apartment building.
After this incident I've gotten lost around four additional times, but I realized that I like getting lost. Barcelona has a lot to explore and I have seen a lot more than I expected in my first three days here.
I can't help but think, if this would've happened to me back home I might've been angry or frustrated with myself, but I am in a beautiful city and I find joy in every thing that I am experiencing.
I write this thinking wow, still can't stop smiling! I'm filled with love and adoration for this city.
If we can view every day like this, grateful for all of life's experiences, we would probably never feel stressed out or frustrated."