Global Experiences is made up of world travelers. We have spanned the globe and touched nearly every corner of the world.
From study abroad, work visas, long holidays, or our own international internships, our team has made memories abroad that will last a lifetime. Read on for our team's favorite stories around the world!
Admissions Team
"One of my favorite memories abroad comes from a trip I took a few years back. A couple of friends and I spent 10 days in Turkey, and we spent 7 of those days on a sailboat sailing around the Mediterranean visiting different Turkish islands. There were only about 15 of us on board, and we slept up on deck every night - bringing up our blankets and pillows to all sleep as a group in the fresh air.

One morning, I woke up before everyone else, and as we were sailing to the next island, witnessed the most beautiful sunrise. Over the next 30 minutes, everyone slowly woke up and we just enjoyed the sunrise in silence until the breakfast bell rang. Nothing better than appreciating a new experience with a new group of people!"
- Augusta Viccellio, Director of Sales and Marketing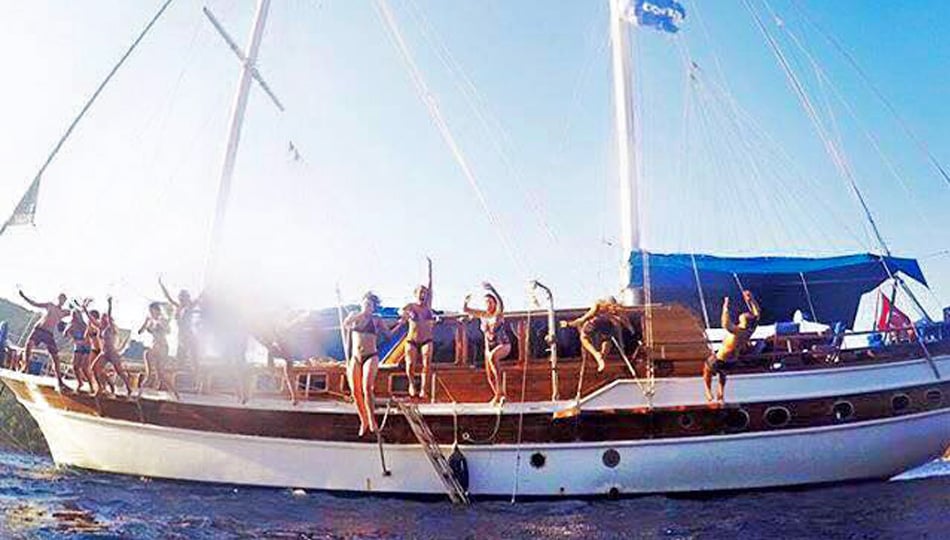 "My family and I traveled to Ireland to try to trace our ancestry. We started in the local pub of a small town and told the bartender as much information about our family as we knew. This quickly turned into a patron at the bar offering to drive us to a local shop where he believed the shop owner would have more info. The shop owner then walked us down the street to introduce us to an older couple who invited us in for tea.

After chatting with the couple for nearly an hour (as if we were long lost friends) the gentleman pulled out a photo-book that was full of photos of my family. Turns out his family and our family were great friends. He then drove us to a farm that belonged to my family where a distant relative still lived!

It was miraculous and unexplainable meeting a family member you had no idea existed! The kindness of the Irish people and their welcoming nature is something I will never forget. It's people like that who make traveling and adventuring worthwhile!"
- Katherine Adams, Senior Admissions Counselor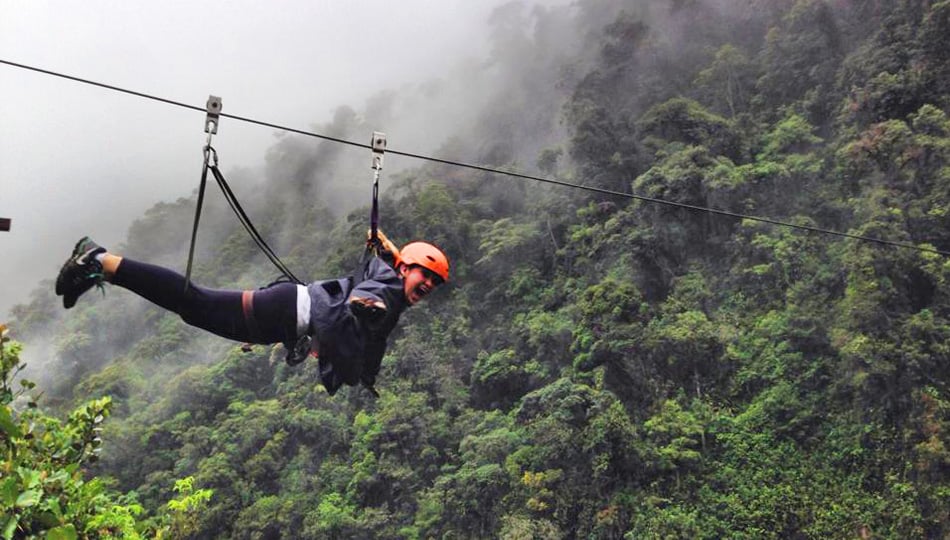 "My group of students and I had just arrived in Salzburg, Austria, to blue skies and warm weather. I needed some alone time after some stressful travel (16-year-olds in a foreign environment will challenge the patience of even the most practiced monks), so I wandered the city to stretch my legs and enjoy the freedom.

Since The Sound of Music is my all-time favorite movie musical, I challenged myself to a photo scavenger hunt to find all the things in "My Favorite Things." I found Raindrops on Roses in the Mirabell gardens, Whiskers on Kittens on a hand-painted toy in a local shop, Cream Colored Ponies riding through the streets, and a Bright Copper Kettle in an antique shop.

It was a time I enjoyed living in the moment and relaxed with the sights and sounds of a beautiful town nestled gently between the rolling hills around the Alps."
- Andrew Parr, Admissions Counselor
"After teaching English in Spain for six months, I decided to travel around Europe for a month before returning home. My boyfriend flew over from the U.S. to join me, as did the friends I had made while teaching abroad. We traipsed around Portugal, Italy, and - last but not least - Greece. The days we spent in Santorini were some of the best I've ever had.

We swam in the Mediterranean, rented an ATV to drive all around the island, stuffed ourselves with gyros at every meal, and made a point to watch as many sunrises and sunsets as we could. Santorini has an east and a west coast, so it's one of the only places in the world where you can easily watch the sun rise and set all in a single day."
- Brooke Matta, Admissions Counselor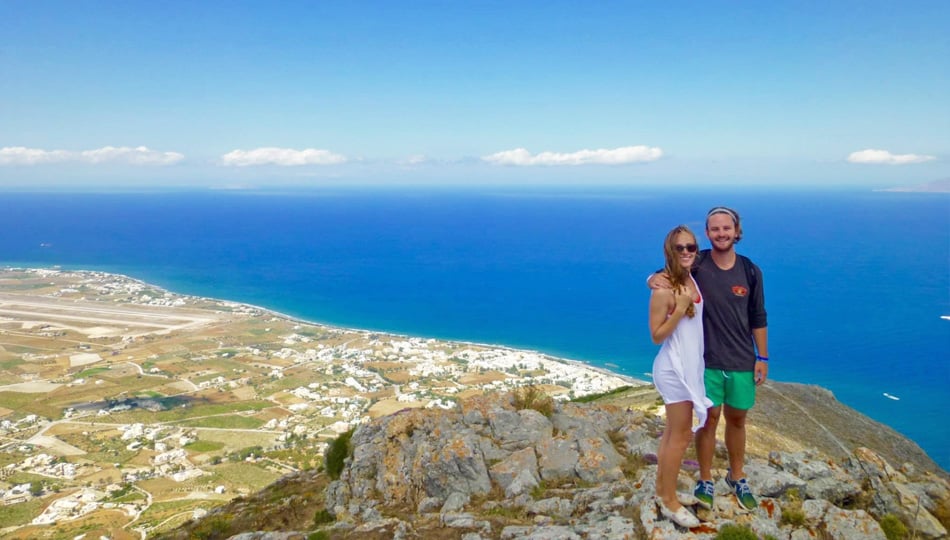 Marketing Team
"On my way home to the States after living in Sydney, Australia, for five years, I made a stop and traveled around Thailand with my best friend (who I hadn't seen in over two years). One morning in Chiang Mai, we hopped in the back of a tuk tuk and drove for over an hour to reach a beautiful Elephant sanctuary in the middle of the forest.

There was no riding elephants here! These elephants were in their most natural habitat. So standing in the middle of a rice field, here come elephants big and small. We fed them, bathed them (and us) in mud, and then went to a river to wash them clean which included a shower from their trunk. It was a day I'll never forget -- pure elephant bliss!"
- Molly Haskell, Marketing Manager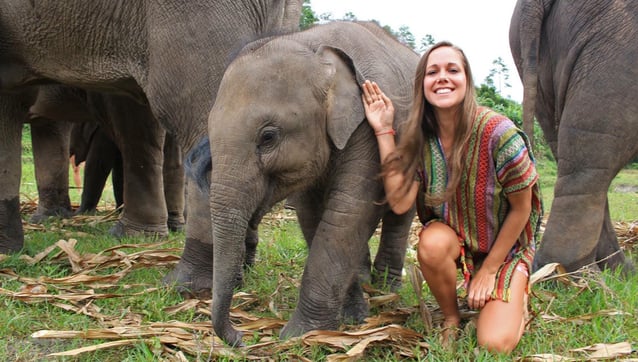 "One of my favorite travel memories is from my time interning abroad in Florence, Italy. My roommates and I took a day trip to visit Cinque Terre.

After exploring Riomaggiore, the beach town of Monterosso al Mare was next on our list. The furthest villages away from each other, there were two options for methods of transportation: The train, or a strenuous 7.5-mile hike that could take up to 5 hours. While most of the group opted for the train, my roommate from Amsterdam was feeling adventurous and asked me to join her in the hike.

Together, we braved through tough climbs, steep descents, narrow passages, and uneven stone steps. Though it was exhausting, the trek was well worth it as we discovered incredible views of the coast, lush olive groves, and exotic plants and flowers. My favorite part was coming across a quaint stand selling limoncello, manned by a sweet old Italian man. While I may have regretted taking a limoncello shot in the middle of a 5-hour hike, I'll never regret that I said yes to a new adventure that would turn into a cherished memory. "
- Lydia Theologus - Student Experience & Marketing Coordinator
University Team
"I was charmed by the people who worked there as regardless of what part of the business the individuals worked in, they were fiercely proud of their wines and loved telling stories about their lives, their wine and their region of Australia - as they were all interwoven. The wine was delicious, but I loved learning about this aspect of Australian culture even more."
- Carri Orrison, Vice President of Operations
"One day during siesta, my host mother, father, and sister gathered around the table while I explained the process of making a s'more. My host father was suspicious. My host sister crouched in front of the microwave and asked, "Va a explotar??" ("is it going to explode?") No explosions, in the end, just contented smiles, and my host father asking for a second helping of this strange American sweet."
- Kelly Holland, Associate Director for Institutional Partnership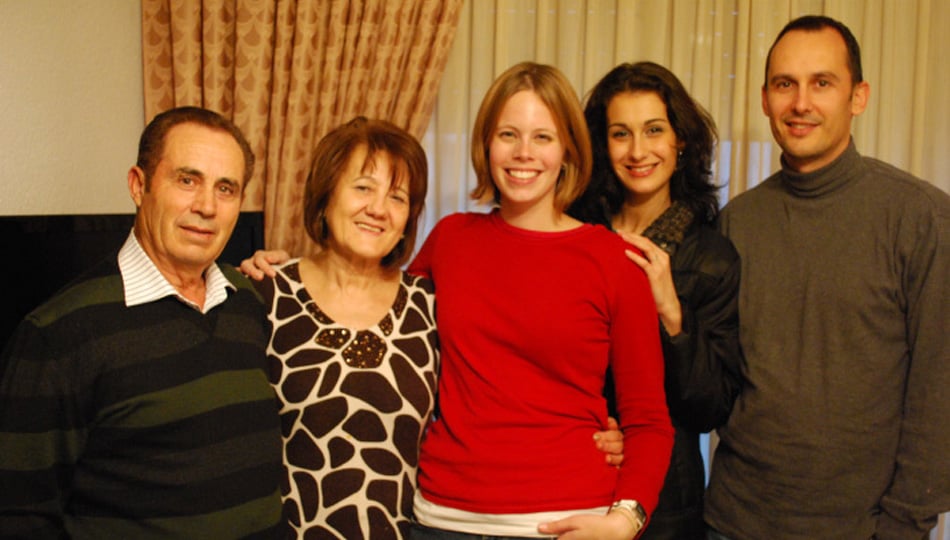 "A memory that is so clearly etched on my mind is from my time living in Australia's beautiful Whitsunday Islands. This island conglomerate just south of the Great Barrier Reef is known for its sailing, fishing, and diving. I had been working with various boat tour companies, and one particular day I was on a racing maxi hanging with our small crew and group of guests.

It was a gorgeous day out on the deck just eating, lounging and hopping in the water to cool off and snorkel. The fringe reef around all of the islands was so pristine and the visibility was the best I had ever experienced. I felt like I was swimming in an aquarium!"
- Melissa Buerkett, Director of Academic Internships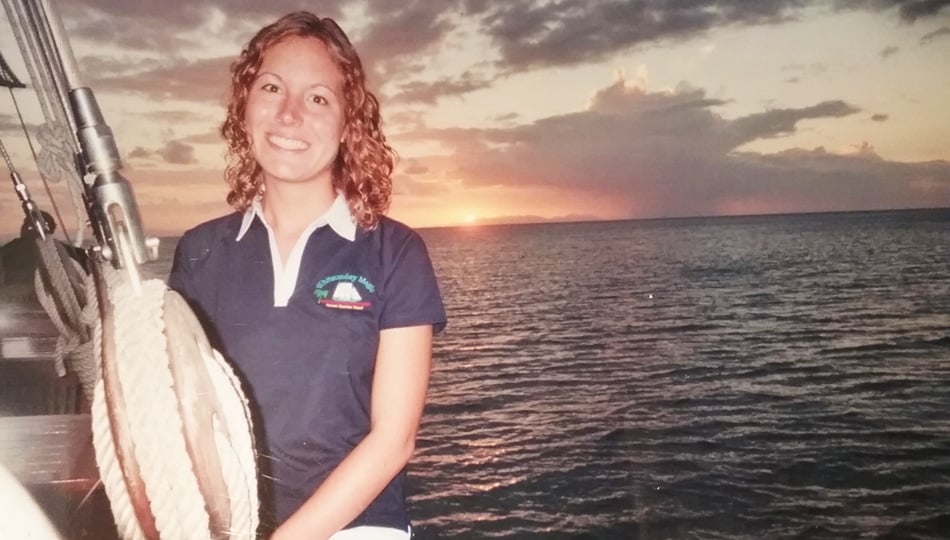 Programs Team
"One of my favorite times abroad didn't involve a well-known tourist attractions or even a well-known destination. I was traveling with a few friends in a small beach town in Croatia called Baska. We decided to go on a last-minute sunset hike after spending the day on the beach.

The trail was completely empty outside of the four of us and some misplaced sheep. Once we made it to the top and took in the insane views, I just remember feeling so lucky to be in that place, at that moment, with those people. It's a memory I'll always keep."
- Ashleigh Franks, Program Advisor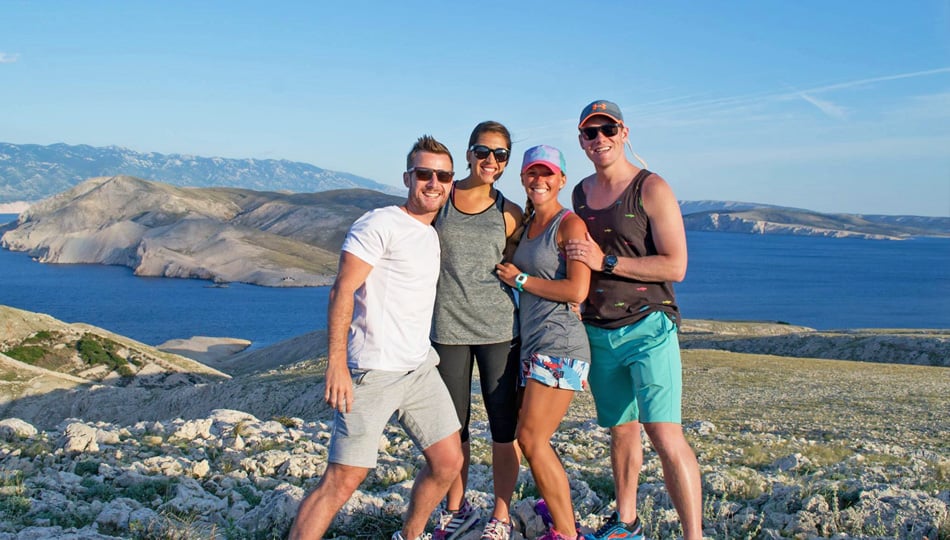 "Growing up, my grandmother used to tell me about Rome, and how important of a role it played in her relationship with my grandfather, a man who I never had the opportunity to meet. She would tell me that the Spanish Steps was her favorite place in the whole world.

When I was in college, I jumped at the chance to study abroad in Rome and went to see the steps immediately after arriving. I remember the crowd of people surrounding the steps, and felt overwhelmed by the moment.

Days later, I returned to the steps with some new friends late at night. No one was there and we sat on the steps for hours, talking, sharing stories, and remarking at how lucky we were to be there. It was in that moment that I knew that I was exactly where I was supposed to be, a feeling I won't soon forget."
- Jen Mackin, Program Manager
"I was road-tripping solo around the East Cape, which is the most remote area of New Zealand. On the night before New Year's Eve, I spent the night in a tent at a local camping ground. I woke up early the next day before sunrise to make my way to the easternmost point of New Zealand to the East Cape Lighthouse. To get there, I traveled on 10 miles of single lane dirt road before I arrived and made my way up the 750 steps where the lighthouse is situated.

Because New Zealand sits on the other side of the international date line, this is the first inhabited area in the world to experience the new day. So, on December 31st, 2015, I was able the first person to watch the last sunrise of the year."
- Sara Morgan Watters, Program Advisor
"While studying in Madrid, Spain, a few friends and I hopped over to a Mediterranean beach town on the east coast of Spain for the weekend. We stayed in a hostel that was full of people from all over the world, literally. After dinner one night, a large group of us that were staying there took a walk to the beach and shared a bottle (or two) of Tinto de Verano.

Eight of us, all from different corners of the world, realized that we were all meant to be in that small beach town at that exact moment in our lives. It was a moment that never fails to give me goosebumps and always reminds me of why I love what I do for a living."
- Hailey Morris, Program Advisor
"I once helped hand build a school in Valle de los Liros in El Cua, Nicaragua. I'll never forget the experience because I lived in a community in the middle of a forest where the community came together and dug their own roads to have access to the city. I had to filter my own water and once got locked in the toilet by a pig! It was such a humbling and beautiful experience."
- Dr. Shawntia Key, Global Program Director
International Team
"From my experience abroad, I remember the quiet of the metro that I took every morning to attend class at ICE in Bruxelles and the funny atmosphere of my class. I visited several cities close to Bruxelles, but I will never forget the magical time that I spent in nearby Bruge.
- Anna Fornabaio, Italy Placement Director
"The most important memory I have of being abroad was the first time I came to Florence. I turned a corner and was left speechless, having stumbled completely by accident upon the Duomo and Brunelleschi's famous dome. I literally had never seen anything so magnificent and beautiful.

It changed the course of my life because in that moment I knew I would move to and live in Florence, Italy permanently. Before then, I had never considered moving abroad for more than a few months at a time. That was 14 years ago, and Florence has captivated me ever since."
- Rachel Vermiglio Smith, Italy Program Director

"One of my best travel memories is walking in the dark from Aguas Calientes to the ruins of Machu Picchu to enjoy the sunrise. We had the place to ourselves for 30 minutes before the hikers from Cusco arrived and it was simply magical. We ran around the ruins, with only a handful of llamas for company eating our vegemite sandwiches and smiling from ear to ear."
- Andrea Hay, Sydney Location Director
"I remember being in Bohol, in the Philippines. We decided to rent a motorcycle to go to Chocolate Hills. It took us 4 hours to arrive to our final destination. Getting there became a real challenge, and we got really frustrated.

Half of the way we got sunburned and the other half was heavily raining. We even got lost at some point. But when we finally managed to get there and see the beautiful landscape, I felt so alive and connected with the planet that I would repeat that adventure one thousand times again."
- Carmen Chamorro, London Location Coordinator

"Difficult to choose one of the best experiences abroad as I feel ''abroad'' every day of my life being away from my hometown! But I think one of the most beautiful experiences I have ever had was a last-minute trip to Bali. It was there that I got to know so many amazing places such as rice terraces, swings in the middle of the nature, so many types of greens!

I have never see that many motorcycles in my life. But you know what is curious? That in the middle of the confusion, there wasn't space for an accident! Everyone is so patient, and nobody goes over the limits. It is like a secret general rule!"
- Anna Pascarella, Florence Location Coordinator
"I have traveled a lot and had many different adventures but one of the most culturally shocking and unforgettable experiences that I had in my life was during my trip to Morocco. Our local guide picked us up from Marrakech and drove us toward Ouarzazate, enjoying the views of Berber villages and learning more about their culture. We crossed the Atlas admiring the different valleys in the area and then we reached Ouarzazate, famous for the films studios.

Finally, we arrived at the Merzouga Desert and got ready for our adventure. Riding on the back of a camel for half a day was not what I had imagined, but seeing the majestic, tangerine-colored dunes of the desert was absolutely magical and totally worth the ride. That night we sat around a campfire drinking tea, eating local food and getting to know the other people in our small Berber camp, while hearing traditional folk songs.

But the best part was kept for the end, sleeping under an open sky with millions of stars and a full moon in a faraway country was definitely one of the best experiences in my whole life!"
Inma López , Barcelona Program Director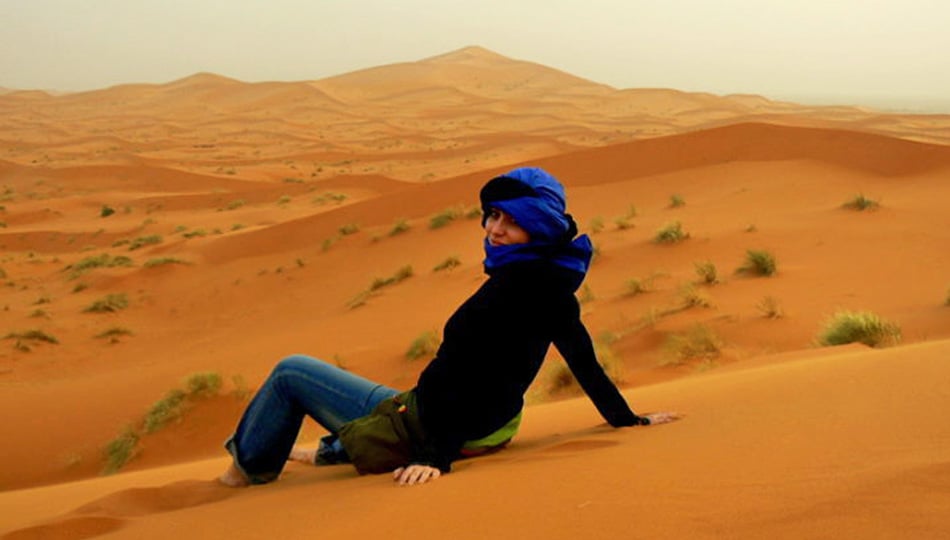 Explore The World
Now that you've read our favorite memories from being abroad, it's time to go make some of your own. Apply today and a dedicated member of our team will contact you to get you on your way to an international internship.