Rawan, 22, from Saudi Arabia is currently interning abroad with the Global Experiences Florence program.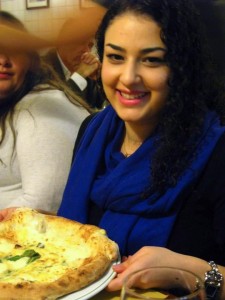 What have you been doing at your internship?
My internship is in interior design, working at an architectural studio. I was given two tasks: the first was making 3D digital photos for a shop design in Touluse, France; the second was one I got to do from start to finish - the whole thing. I was given a blank plan, and had to design furniture pieces and come up with a completely new design. They gave me the colors they wanted and told me to create a entirely new concept. And I'm really excited about it because this shop is actually going to be built in Milan. I'm going to come back and visit the city soon, go see my shop, and be like,"I designed this." I was surprised that they gave me such a big responsibility I wasn't expecting it.
What's been your favorite part about Florence?
What's not to like? You've got shoes, gelato, and great weather, music and performers in the street, and art everywhere. It's hard to pick a favorite.
What's been the most difficult part?
For me, at first, it was adjusting to the weather. It was so hot and there was no air conditioning. I had never slept without it in the summer in my whole life. I made do with a fan, and it started getting cooler after three weeks. This is also the first time I've been away from my family for so long. I thought I would spend most of this trip being homesick. But, luckily, I had Internet in my apartment and could Skype with them everyday - and that really helped a lot. In the end, I didn't feel homesick.
How does Italy compare to Saudi Arabia?
I was surprised about how similar our cultures were. Italians seem to have really strong family bonds and really value them. It's the same with Arab people. And, the mentality on women. We share the same ideals of what to expect in life. In Saudi Arabia, women are supposed to be mothers and get married, but it's also ok to have a job. They have the same view here in Italy. Also, with the nature of relationships between men and women; it's hard to have guys as a friends in either culture. It was easy for me to understand people - very traditional. So different from what western countries feel like. I couldn't believe our countries shared such similar views - conservative dress, etc. I was able to understand the culture here. I expected it to be more like London or the U.S. but I was surprised - in a good way.
Also, the Italian and Arabic languages are surprisingly similar. I would be trying to think of a word in Italian, and people would tell me, and I'd be like, "Oh. It's the same. Italian has a lot of common words with Arabic, and the grammar is similar, too.
What's been your favorite part about the whole experience?
The fact that I came to Italy, but I met more than just Italians. I was able to make friends with Americans, Latinos, Dutch, Japanese, Swiss and Brazilians, mainly thanks to the language school and housing. I have a roommate from Brazil and one from Switzerland. They're really nice girls, and I like living with people where you can share responsibilities - like I'll cook one day and you can do the dishes, etc. It's kind of like creating a temporary family. This was my first time living with people other than mine, and I like it. It was different, but it still kind of felt like a home. You don't feel totally alone.