The World Netball Championship is just ended in Singapore with Australia beating New Zealand by only a 1 goal difference. While I have been receiving tweets and photo tags of the match from my friends back home, I still cannot find a streaming that shows the match.
It's funny because when the first time I told John, Tom and Emma that I am going to play netball at Highbury Grove, there stared at me funny. Why? Because these Americans do not know what the heck is netball and they still don't get it after I explained to them how it's played. I guess it's the same as we Asians, who don't really get American football. For us football = soccer = English Premier League, which is not really big in America (not until the mighty David Beckham signed for the LA Galaxy). Anyway, Emma went to watch me play netball last week with Afifah to take some pictures, but she got bored after the 2nd quarter.
I just hope that with these additional efforts that I put in will give me the advantage to help represent my school for the upcoming Singapore University Games when I return home and also represent my club for the Year End League.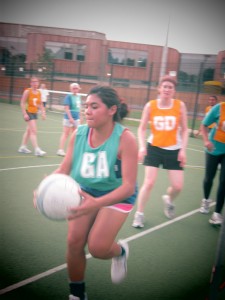 I really enjoy playing with this London team that I managed to get a hold of. They are really nice and friendly. I started off filling in for a player but then got an invitation to play with them for the summer league. On top of that, I also met this wonderful coach who offered me advice during my games. People here are really friendly and sweet. In Singapore, try giving advice, people will look at you, thinking that you are some expert. I also managed to do fill in for some other teams and they are fantastic. I just love these London locals!
I am so going to miss playing with Green Angels. This team is so down to earth and I know that when I come back, I'm definitely playing with them. Although their playing style is slow, they are teaching me skills that I would never dare to use during competition with my school team. On top of that, their teamwork and how they cheered on each other are just awesome. Sometimes, its not about how good you are but rather how well you work as a team.