Today in class we had to describe our opinions of Italy. I argued that there are in actuality two different Italies -- the one of the tourists and the one of the people. While it may have been more convenient to live in the historic center of Florence , my roommate and I agree that we are very lucky to live in the industrial part of town because we get to see the true Italy of the people.
We have commenced "Operation Blend-In," in which we do everything in our power to seem Italian. So far it is has gone quite well, as we have been mistaken as natives several times and even asked for directions! In addition, we take the city bus regularly and are already learning the layout of the city very well.
Yesterday I began my first day of work. I went to dinner with the news staff and got acquainted with the way the newspaper functions. Today I had the opportunity to interview a local artist who owns a gallery and art school near the Ponte Vecchio.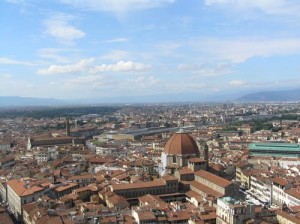 One instance in which we did not blend in at all was when we took the necessary trip to the Duomo in a group of approximately 20 other language students, the majority of which were American. We climbed the more than 450 stairs to the top of the cupola, but it was worth it for the spectacular view.