My internship experience is probably unique to most others in the Global Experiences program because I am actually living at home in a suburb of London. My family has been in the UK for several years and this is where I graduated from high school, and while I now attend college in the States, I visit regularly.
Spending a Friday night in London with friends is one thing: it's like taking a photograph – a bright snapshot, a single instant – and then it fades as you return home. Through working full-time, however, I have been able to glimpse a different side to life in the city. As I spend my days riding the train in and out at the same times, I have begun to view London like a living thing.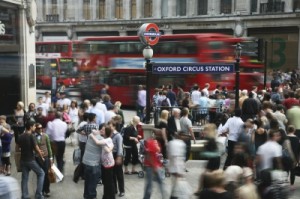 In the mornings, the city breathes in and thousands of people come rushing to fill the gaps like a hiss of warm, sticky air. They flow swiftly and predictably in the tangled network of arteries beneath the streets, trains pumping people to their destinations at regular intervals like the beat of a massive, thumping heart (watch out: myocardial infarction on the southbound Bakerloo line). Then comes that 9-to-5 pause when the population is absorbed into their office buildings amidst the clicking of keyboards and the trill of telephones. And at the end of the day, London releases its captured breath, deflating in a cool rush of black and blue. Then the city dreams of the good things in life – lights twinkling on the inky surface, the soft hum of music, laughter and the clinking of glasses rolling through open windows onto cobbled streets – just waiting for that morning breath to begin the cycle over again.
Through my years here, I have become familiar with the pattern of the city; sometimes it is predictable and other times it takes on a life of its own. It feels almost like a second home to me, but at odd times it never fails to surprise me and remind me how much I still don't know. My Global Experiences internship is helping me fill in those gaps: both in the day-to-day life of a Londoner and on my resume.