Val is a junior at Wilkes University in Pennsylvania, studying Marketing and Management. Val is the recipient of the Jessica Burns scholarship and will be detailing her journey to Dublin.
This time of year is filled with time spent decorating, shopping, taking part in festive activities with family, friends, and even doing something extra special for strangers. Christmas in the United States is a holiday that billions of dollars are spent on each year. Neighborhoods are decorated with lights, Christmas sales are underway, holiday movies are played on repeat, and we cannot forget one of the most favored traditions of picking out and decorating a Christmas tree. Other common December holidays in the United States are Kwanzaa, a pan-African festival celebrated and Hanukkah, an eight-day Jewish holiday.
This got me to start thinking about what it's like in the country I will be visiting in 6 short months. How are these December holiday months spent in Ireland? From what I've learned Christmas is the biggest holiday in Ireland, and growing bigger each year.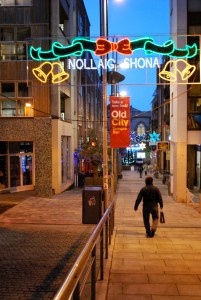 December 8th is the start of Christmas in Ireland, compared to the United States where the celebration of Christmas seems to begin right after Thanksgiving. The greeting for "Happy Christmas" in Irish is Nollaig Shona Duit translated to mean "Happy Christmas to you." I also found that the British English expression "Happy Christmas" is more common in Ireland than its American English equivalent of "Merry Christmas." In Ireland children eagerly await Santa to leave them presents on Christmas Eve, and it is tradition to leave mince pies and a Guinness out for Santa. I'm happy that Santa is enjoying more than just milk and cookies! And in addition to turkey for Christmas dinner, sometimes spiced beef is eaten. This can be served hot or cold. Dessert is commonly a Christmas pudding.
Other Irish traditions include swimming in the sea on Christmas morning, often done for charity. A common swimming destination is The 40 Foot Rock on the Southside of Dublin Bay. There are hundreds of people that take the leap into the chilling 50 degree (Fahrenheit) 10 degree (Celsius) water.
I found it very interesting the similarities the Irish have in regards to celebrating Christmas along with the unique traditions they have of their own. I would like to wish everyone very Happy Holidays!