Barcelona is home to endless nights, loud music, bright colors, miles of sandy beaches, and festivals that fill the streets. Matched with a long list of amazing holidays and celebrations - what's more to love! Check out our guide to Barcelona's top holidays you do not want to miss out on.

Carnival - February or March
Carnival in Barcelona has a reputation for being one of the more tame Carnivals around Spain, but that doesn't mean there isn't plenty for you to experience. The multi-day celebration is known for its crazy costumes and disguises-people dressed as wizards!
In Barcelona, Carnival kicks off with "Dirty Thursday" also known as Jueves Ladero. You can celebrate Dirty Thursday by eating massive amounts of food offered at carnivals and street vendors. Enjoy the local events and festivals which continue throughout the weekend across the city.
On the Sunday before Ash Wednesday, take part in one of the highlights of Carnival by celebrating "La Taronjada." Don't just sit by and watch the festivities, become part of it by joining in on the battle of bright orange balloons and colorful confetti.
On Ash Wednesday, the King of the Carnival is declared dead, and you'll notice the bright colors and costumes are traded in for dark clothing and funeral attire. Throughout the streets, you'll hear haunting funeral serenada and parades full of ghost and ghouls. In the end, the king is buried in a funeral cortège accompanied by his widow and companions.
If you intern abroad in Barcelona in the Spring, Carnival is a must experience event. Never forget a holiday that many other cities may try to replicate, but none can come close to making it as special as Barcelona.
Sant Jordi Day - April 23rd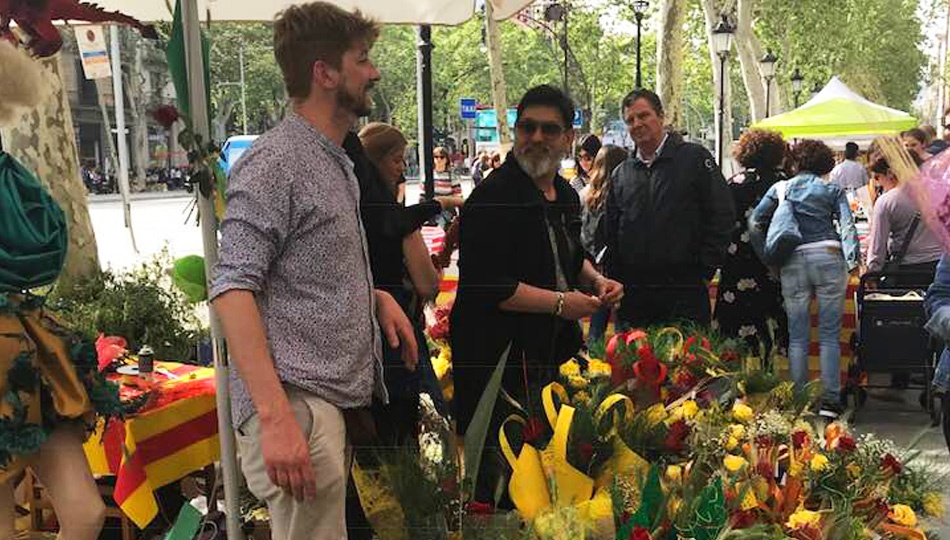 On Sant Jordi Day, love is in the air! Sant Jordi Day is Catalan's equivalent to Valentine's Day and celebrates the story of Saint George who locals will tell you rescued a princess from a dragon. Similar days are celebrated all over the world, but you'll notice Barcelona celebrates a bit different.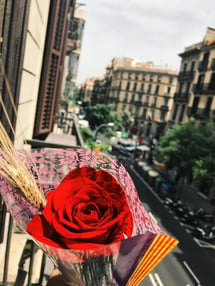 The traditional idea behind the day is that men give women roses, and women give men books. In every corner and square of the city, you'll find vendors selling books and bright red roses wrapped in ribbons the colors of the Catalan Flag. Sant Jordi day is not a public holiday, but there's no doubt you'll still feel a festive vibe through every street.
"My favorite holiday was probably Sant Jordi which is April 23rd! It's pretty much Valentine's Day for Catalonia," said Val G., one of our Summer '17 Marketing Interns.
Feel the love and fall in love with Barcelona on Sant Jordi!
Revettla de Sant Joan - June 23rd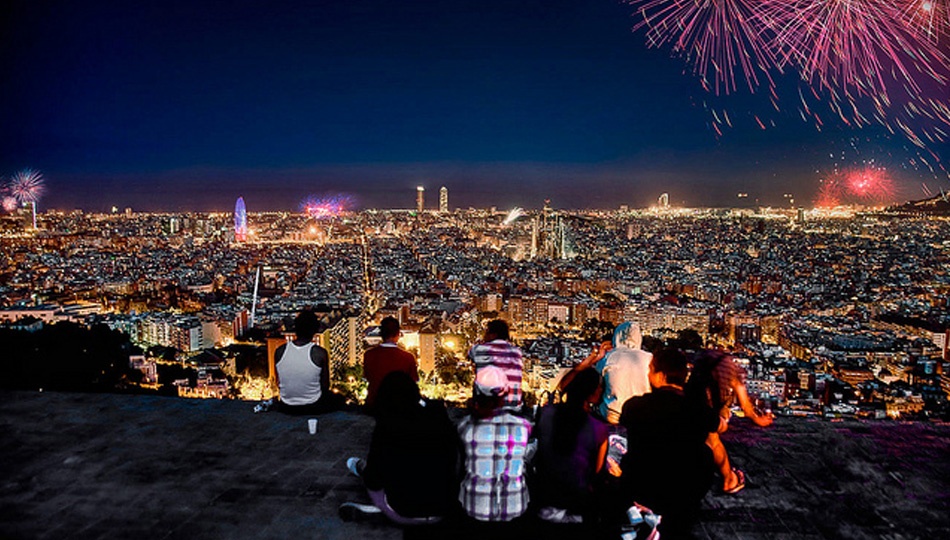 Don't plan on getting a good night's sleep on June 23rd as fires burn across the city and firecrackers fly through the streets. It may sound like chaos, but don't worry, the fires and firecrackers are all part of Barcelona's biggest, craziest, and loudest party of the year.
Revettla de Sant Joan is Barcelona's midsummer celebration and steeped in pagan roots. The holiday has been called Barcelona's most magical night of the year and part of the city's DNA.
This holiday gives you a chance to experience the city like a local and enjoy small festivals throughout the city. Neighborhoods and local governments organize bonfires that burn through the night. Even the next day is considered a public holiday to give government workers a chance to clean up the massive celebration.
Head to one of Barcelona's incredible beaches to be part of some of the biggest celebrations. Over 75,000 people pack the beaches to light fires, shot off fireworks, play live music, and share the taste of their traditional sweet bread "Coca de Sant Joan".
2017 summer Business intern Kaylie C. described her San Juan experience as, "A beach festival to welcome summer! There was a ton of fireworks, campfires, and the beach was filled through the night."
To experience Barcelona and its culture to the fullest, Revetlla de Sant Joan is the holiday you must celebrate during your time abroad.
Catalan National Day - September 11th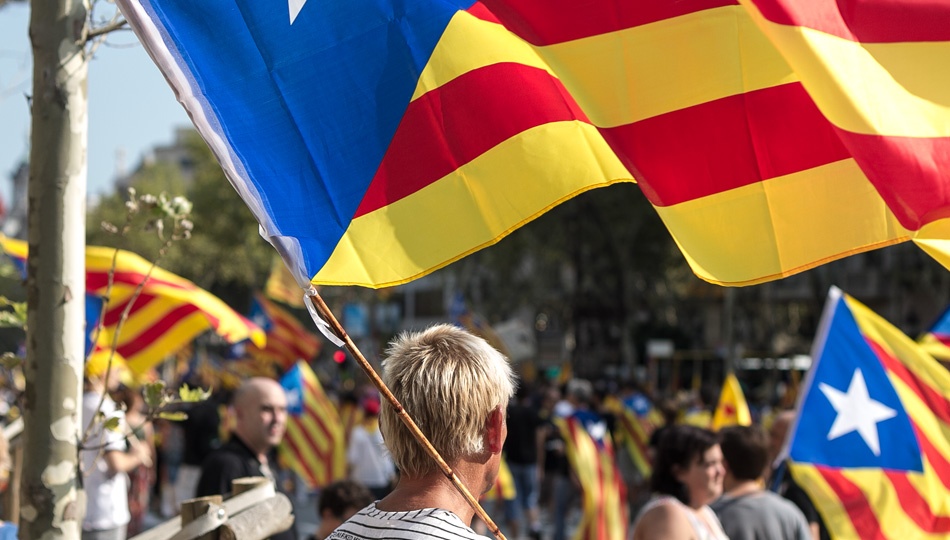 Known simply as "La Diada" in Barcelona, Catalan National Day is celebrated every year on September 11th. The day is meant to honor and remember the fall of Barcelona during the War of Spanish Succession. The holiday was first celebrated in 1886, but became suppressed by Francoist Spain in 1939. It wasn't until large protests in the late 70s that the holiday was once again recognized.
Like other holidays in Catalonia, Barcelona shuts down for National Day. No work gets done as thousands flood the streets to take part in the celebrations and demonstrations. The festival kicks off with floral tributes being laid at the statue of Rafael Casanova, who played an important role in the war of Spanish succession.
In nearly every corner of the city, you'll see the bright red and yellow Senyera-the flag of Catalonia-being flown with pride. The air is full of celebration and Catalonia's national anthem "Els Segadors."
Wander around the city to hear poetry readings, concerts, and dignitary's' speech all throughout the city. The city also announces events and celebrations at famous landmarks around Barcelona.
La Mercé - September
Say goodbye to Summer and welcome Fall with a bang by celebrating La Mercé Festival. A five-day-long celebration at the end of September in honor of Marc de Deu de la Mercé, the Patron Saint of Barcelona. Out of the many celebrations Barcelona has every year, La Mercé is by far the largest.
2017 fall NGO intern Michelle Candelo said, "My favorite holiday was the holiday called La Mercé. It was phenomenal! The new students should definitely go enjoy it."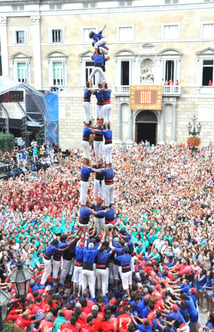 See the devils at dusk along Via Laietant, one of Barcelona's main streets. The Correfoc or fire run features fire-breathing dragons and groups dressed in devils' customs running through the street with fireworks attached to pitchforks. Some Barcelonans will run towards the sparks and try to dance under them, but you can still watch the parade from a safe distance.
One of the highlights of La Mercé Festival - and a must see - is the Castellers. The goal of Castellers is to build a human tower that a small child can climb up. The event draws a crowd of thousands, and you have to get there early to get a good spot, but it is worth it. With so many different aspects and cultural events, La Mercé is the holiday you must celebrate if you intern abroad in the Fall.
All Saints' Day - November 1st
Halloween in Spain is celebrated the same way that you're probably used to in your home country, with costumes and decorations. But what makes Halloween slightly different is the day after. Across Catalonia, and especially Barcelona, November 1st is dedicated to celebrating All Saints' Day also known as La Castanyada.
You won't experience All Saints' Day the same way as other celebrations in Barcelona. There's no loud music, bonfires, or devils running through the streets. Instead what you'll find is a day of remembrance around the city. Colorful flowers are laid at gravestones; graveyards around the city are opened up late.
Even though All Saints' Day is quieter than most holidays, Barcelona still finds a way to make the solemn occasion into a celebration. On the streets you'll find vendors, artists, and traditional Spanish foods. The food eaten on All Saint's' Day is offered only that one time a year and is considered some of the best in Barcelona.
Tantalize your taste buds with a panellet. The sweet pastry is a cinnamon bread with sugar, potatoes, almonds, eggs, pine nuts, and cherries, and is one of the most commonly severed foods on All Saints Day.
Eboni E., who was part of one of our marketing internships in fall 2017, said about All Saints' Day, "I got to experience la Castanyada. My favorite part was getting to eat the sweet potatoes from the street vendors. It's definitely a holiday worth experiencing."
Out of everything that happens on November 1st, sweet potatoes might seem like a strange thing for an intern to remember, but the food is actually one of the most popular and well-known parts of All Saints Day.
You'll eat your way into Fall with the city's annual Castanyada. A massive fire is built in the middle of the city when it burns down to coals that locals place pans on top and roast chestnuts. The chestnut is the traditional symbol of the event and featured throughout the festival.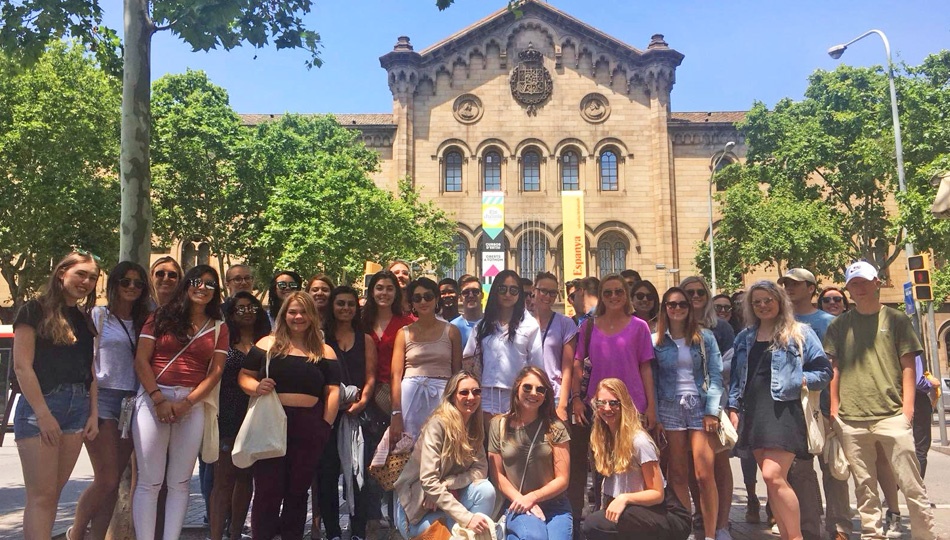 Don't just sit around asking, "what should I do with my life?" Apply now for one of our internships in Spain and go celebrate Barcelona!