Workforce readiness. Global Skills. Competency Building. These are buzz words thrown about to students and graduates who are looking to gain a foothold in the working world. Like the chicken/egg conversation, how one gains workforce experience, thus making them a successful job candidate without having a job, can be confounding. But there is a solution that many globally engaged students are using to get an edge for their career.
Internships. An opportunity to gain critical experience, internships are now a necessary step for people looking to differentiate themselves from their peers and gain a foothold in their career field. Once and Internship can be experience in an international environment you have a truly life changing opportunity.
When well-matched and well-delivered internships provide workplace skills for people entering the workforce, they combine the knowledge gained in school, with the skills needed to kick-start your career. This kind of personal and professional development is what makes a difference when individuals are applying for their first jobs. The trick is finding an internship that is career focused so that when you list it on your Resume you can talk about skills you've developed and learned.
Global Experiences has worked for over 14 years developing international internship programs. With ten locations around the world, and internship opportunities in a wide-range of career fields, we have the experience and international connections to give you the internship experience you need.
We recently interviewed three of our Australian alumni about their experiences and how they have used their experiences towards their future career.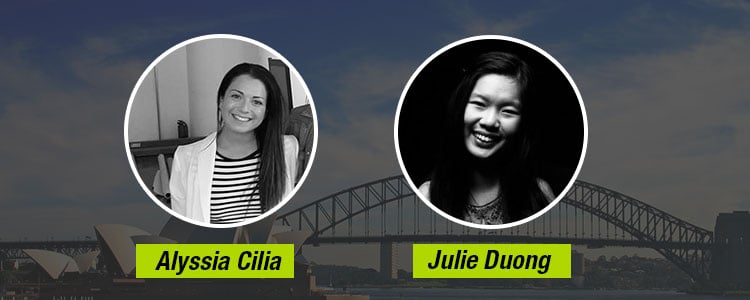 Alyssia Cilia from Swinburne University of Technology did a Marketing & Graphic Design internship in New York City, Julie Duong from University of Western Sydney went to New York City and had an internship at an International Non-Profit, and Louise Muscolino from Charles Sturt University went to New York City and worked with an Event Marketing company.
Tell me a bit about why you chose a Global Experiences Internship:
Alyssia Cilia: Global experience allowed me to get connections with people in my industry and placed me in my dream job and did all the hard work for me.
Julie Duong: I thought that it would have been a perfect way to see more of America and be immersed in the culture whilst gaining invaluable international skills leading to my career development.
What were your thoughts during the enrollment/advising period? Any concerns?
Louise Muscolino: I was extremely pleased with the ongoing assistance and guidance in formatting my resume and cover letter to its highest potential for employers to oversee. The skills I have learnt in preparing and tailoring a cover letter and resume for potential employers has resonated with me and I will be able to employ these skills in future applications for work.

AC: Global Experiences looked after me during the whole experienced and ensured that any issues that may arise would be resolved for my best interest. Yes it is a lot of money but I found it was 100% worth it.

JD: It was pretty nerve racking for someone with little experience but it was really great to hone down on your writing skills. Global Experiences also provided help on my application by providing me with samples.

What did you think about the internship you were placed with?
AC: I loved it. It was everything I was looking for. It was fun and exciting and gave me the everyday experience of living and working in NYC.

JD: They immersed me in their work from the start and trusted me with confidential dealings. I got to liaise with extremely wealthy individuals within New York and attended events that catered to corporate professionals. I really enjoyed this side of work and found it invaluable.
What were your general thoughts about your city?
AC: LOVED IT! Every day since I have been home I plan on how I am going to move back. Global Experience's has given me the tools to do so.

JD: New York itself is absolutely incredible and to be able to live like a "local", it was so fun. The city was bustling with something fun to do and eat all day and night.

LM: New York has its own special way of making you feel limitless and the general fast-pace of the city makes you feel more ambitious and determined to go places in your career which I love
Tell me a bit about your overall internship experience:
AC: I have done a lot of traveling, however this was by far the best trip I have ever done. Some days are hard and you get tired and home sick but you're still having such an amazing time. Every day you wake up in NYC and something different and exciting happens.

JD: My overall internship experience was just amazing. I experienced and learned so much. I felt like someone who has been working there for ages as they trusted I take credit card information and liaise with extremely high end members. I feel that this internship has given me opportunity to expand my customer service experience and turned research into tangible results.
What were your favorite parts of your GE Internship?
AC: I loved it all. The accommodation set up & the GE nights out especially!

JD: GE's internships are very relaxed when you're not at work so you have more than enough time to explore on your own or with friends doing whatever you want. They also plan weekly activities such as attending a baseball match or off site Broadway shows (best thing ever, Sleep No More) so if you want to hang out together with the crew or kick back and relax it's all up to you.

LM: Living in New York City of course! Also being able to individually live away from family and friends for a long period of time and be able to fend for myself and do all the things someone living out of home has to do. It was a great life learning experience for me to have to tackle situations by myself. I also loved meeting so many new and interesting people both inside and outside of my internship.
How have you used the lessons you've learned, and the skills you've gained within your internship, as you've moved forward in your career?
AC: The skills I learned at my GE internship has given me an amazing job back home and given me the motivation to grow in my career.

JD: Having stepped forward and grabbed the GE internship opportunity I feel that it's made me get out of my shell and take a dive. I'm much more confident in myself and my abilities to be able to strive for what I want.

LM: I have surely used the skills learned building my resume and cover letter in preparing myself to apply for potential employers. I have also learned how to apply marketing strategies to real life situations through my tactile experience throughout my internship. I have also learned many general life lessons which has made me a more independent and self-sufficient person today.
Looking back on your GE Internship, what's your biggest takeaway from what Global Experiences offers?
AC: They teach you how to communicate like a professional. They teach you how to present yourself and act in the professional environment. They perfected my resume so I feel confident applying for jobs.

JD: Global Experiences offered the chance to explore my opportunities and myself as a person ready to get out there and show the world what I can do.

LM: It's a complete and whole learning curve for a person to undergo, and many long lasting life lessons are learned outside of the internship.
Where are you now?
AC: Finishing my double degree home in Melbourne. With plans to move back to NYC in 2017.

JD: I'm currently starting my Masters degree in Commerce, specializing in Human Resources.

LM: I am still studying towards achieving my degree in marketing, and am hopefully going to specialize in graphic design after realizing how much I loved completing design related tasks during my internship.
Along with our traditional programs, Global Experiences has developed a custom-designed 8 week program for students at Australian universities, and we've been running internship programs for over 14 years.