The holiday season is in full swing and everyone's favorite day of family, football, food, and giving thanks is almost here.
We thought, "what part of their international experience would our alumni say they were most thankful for?" From experiencing a new culture, making lifelong friends, to gaining amazing professional experience, there's so much to choose from. So, we asked them!
It warmed our hearts to receive a wide range of amazing answers from past interns from different career fields and from our different host cities. Read on for 13 testimonials from some of our thankful alum.

1. I am thankful for my Internship abroad because I could work in a career field I wanted while doing something that I absolutely love which is traveling. I got to learn more about how rich the Irish culture is, and most importantly it helped me to figure out what I do not want to do after I graduate. Knowing what you do not want to do is also important to make decisions about the future. At the end of my internship, I traveled to Portugal, and I fell in love with the country and culture. It was a great summer and it for sure helped me grow as a person!- Ysis G.
Ysis G. spent the summer of 2018 interning in Dublin, Ireland. The Pittsburg State University student's NGO internship was with an organization dedicated to helping older people live full and active lives.
2. I have to be thankful for my internship in Barcelona because it brought so much more insight into my life. From unique cultural and work exposure to making some great friends, it has definitely made its mark on me. And the food - that's something I have to be thankful for too.- Laith A.
Laith A., from the University of Toronto, got to spend an incredible summer interning in Barcelona. While in Spain, Laith interned with a coworking space packed with some of the country's most exciting startups.
3. I am thankful for my Global Experiences internship for many reasons. It gave me a platform that allowed me to step out of my comfort zone and experience something that I would have never been able to do alone- intern in another country. It helped me to gain experience, confidence, and connections in the field that I want to pursue and that also isn't easy to break into. It helped assure me that museum work is what I want to do and what I'm passionate about. And lastly, it was just an amazing experience that I'll remember for the rest of my life and always be grateful for. It helped me gain confidence in myself and grow as an individual. - Sarah S.
Sarah S., from Florida State University, stepped out of her comfort zone with a summer internship in London. While in England, Sarah interned in a museum that highlighted the history of the UK's first children's charity and first public art gallery.
4. My internship was one of the most applicable experiences that I've had in college. It actually prepared me for a future in my field, and it demonstrated to me how my industry works in the 'nitty-gritty.' I also gained a mentor that I still speak with regularly to this day. - Dakota S.



American University senior, Dakota S., called Ireland home for the summer by interning in Dublin. The political science major was placed as a research assistant at a local university where he had a wide range of exciting tasks.
5. I'm thankful for the network I built while I was over in Sweden. My coworkers were honestly so helpful in helping me learn more about the country, industry, and advertising in general. I'm also thankful for all of the travel opportunities I had while I was over there. I've never had the opportunity to visit so many countries in such a short amount of time (the UK, Åland Islands, Denmark, Sweden)-Alex W.
Alex W. was part of our second ever group of interns to go to Sweden. The Grand Valley State University student interned with a company making the seemingly impossible task of finding an apartment in Stockholm easy and straightforward.
6. Interning abroad has been one of the coolest and best experiences I've ever had. This opportunity is once in a lifetime! Interning abroad has truly opened my eyes to what I'm passionate about. I love my internship with Campus Florence. It's definitely not easy working in the startup world but it's extremely rewarding. I love seeing my work being published and this will definitely help separate me from others when I start my job search in the spring. Thank you, GE for this incredible experience! - Gracie C.
In the fall of 2018, Gracie C. flew off to Florence, Italy, for one of the best experiences of her life. During her marketing internship, the Salisbury University student, worked for a travel agency that specializes in trips around and in Florence.
7. I am thankful for my amazing experience in NYC, for the great team of professionals who I was so lucky to work with and who shared their experience and supported me through my journey. At ForceBrands I am grateful for the opportunity to work with Julie, my manager at ForceBrands, who gave me all the means to learn and constantly motivated to do better.

During my time in NYC, I was lucky to experience the new culture and meet new amazing people who became my friends. I am grateful to GE for organizing my internship and making this happen. - Yana V.
Yana V. traveled all the way from London to New York City for her marketing internship. The King's College London grad student was placed with a leading recruiting firm in the heart of lower Manhattan.
8. I am thankful for my Dublin Internship because of the new friends, connections, mentorship, and travel experiences I was able to gain. Moving to a new country alone was no easy task, but I learned how to navigate cultural differences and now consider myself to have "insider knowledge" of Dublin City. Not many people in the world can say that! This year I give thanks for the opportunity I had to blossom as a business professional in a country as beautiful as Ireland. - Shannon D.
Shannon D., from the University of Rhode Island ,had the adventure of a lifetime when she interned in Dublin, Ireland. Over the summer, Shannon interned with a luxury hotel and had many exciting tasks.
9. I'm thankful for my internship abroad in Paris because I was given the opportunity to live independently in another country. I also appreciate that I was given a chance to understand what it's like to work five days a week in a foreign country while I was able to have free time during the weekend to explore some other parts of Europe. There's no other experience like it, and I would do it again in a heartbeat if I had the chance. - Alex D.
Business intern, Alex D., from the University of Houston spent the summer of 2018 in Paris, France. Interning with a software company that helped organize business events was the perfect place for Alex to gain the business experience he was looking for.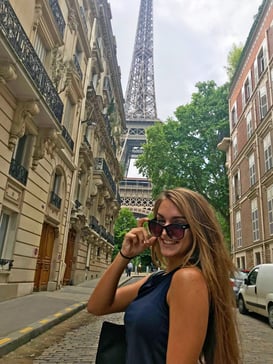 10. I'm extremely thankful for my internship abroad this past summer because of the independence I learned while working in a foreign country. I gained new friends, countless amazing memories, and a feeling of home in a city across the world. I can honestly say that my personal growth and professional experience is unmatched to where I was before my internship, and I will forever be thankful for that. - Claire H.
Claire H., a sophomore at Florida State University, interned in Paris during the summer of 2018. While in the city of lights, Claire interned at a luxury shopping and consulting agency located in the golden triangle. She worked with a team of experts to elevate both men and women's personal style, often helping to make a magical and customized experience for them.
11. I'm thankful for the incredible friends I met and the places we experienced together. I'm thankful for an amazing internship that helped me decide on my career path. I couldn't have asked for a better summer with the wealth of knowledge and memories I will take back with me. - Haley Z.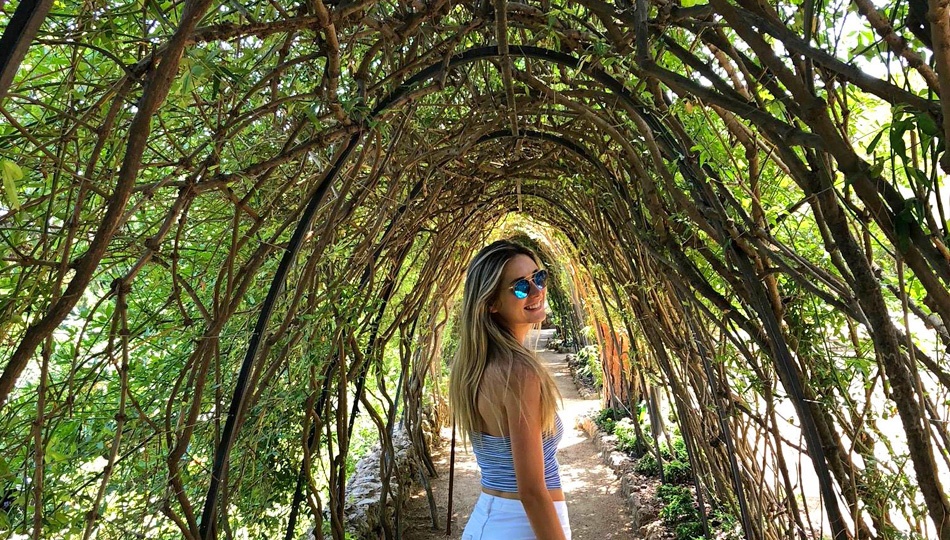 Haley Z. traveled all the way from Florida to Spain to spend her summer interning in Barcelona. The Florida International University student spent her marketing internship assisting a local fashion company in nearly every aspect of the exciting business.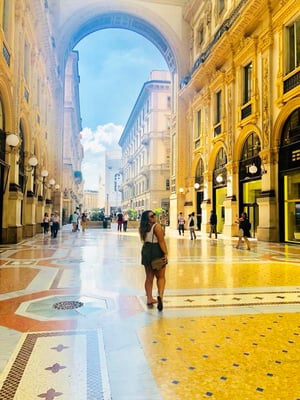 12. As Thanksgiving approaches, I would like to share what I'm thankful for. Interning abroad has allowed me to gain work experience within my field while also living in the beautiful city of Milan, a city where a part of myself will always be. From drinking Prosecco with friends in front of the Duomo to cliff jumping in Cinque Terre. The friendships I've made throughout my journey, and the memories and weekend trips will live with me forever. Most importantly, I learned to cherish the beauty of life while experiencing a different world. Words can't describe how truly amazing my journey was. - Alyssa F.
With her business internship in Milan, Alyssa F. got to immerse herself in another culture for the first time. The Buffalo State College student spent her summer interning at an advising network group that helps small and medium-size businesses solve global problems.
13. I am beyond thankful for Global experiences and for the trip of a lifetime that they have provided for me. Not only have I been able to work my dream job; I've experienced a whole different side of the world, I've met new and unique people with beautiful stories to tell, and I've felt myself grow in different aspects in just the small amount of time I've been here.

I don't want to sound cliché when I say I feel like a changed woman, but I really do feel changed. This opportunity is rare, and it has allowed me to learn more about myself and about the way other people are. From the moment I got to Barcelona, I felt different. A good different, and for that I beyond grateful for! - Nicole G.
After her own trip around Europe, Nicole G. was inspired to spend fall interning in Barcelona. While in Spain, the Broward College student interned at a young design company that welcomed her with open arms.
Feeling thankful
We're thankful for all of the university students and young professionals who decide to better themselves and pursue their dream careers with an internship abroad. We couldn't be more proud of everything our alum accomplished during their internships, and we're so thankful for all the heartwarming testimonials they've given.
Make an international internship what you're thankful for at next year's Thanksgiving. It could be a fashion internship in Paris or a psychology internship in London. Apply today to schedule a call with one of our hardworking Admissions Counselors to speak about our host cities and internships.
Happy Thanksgiving!