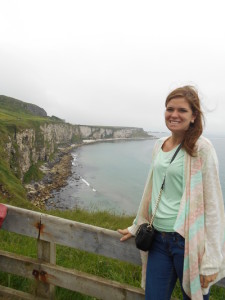 Abbey is a rising junior at Indiana University. She is studying Human Resources and is completing an internship within a recruiting agency in Dublin, Ireland for the summer. Below is a slightly-edited post from her blog titled
Nibbles and Drinks

. Follow

Abbey's blog

to read more about her time in Ireland. To learn how you can do your own internship in Dublin visit the Global Experiences website for more information.
It's official — I've survived one full week in Dublin. Hard to believe, I know, but this week was definitely one for the books. I was able to start my job, go out for "nibbles" and drinks with my coworkers, try Guinness, and explore Northern Ireland. I've only been here one week but I can already tell it's going to be beyond difficult to leave this beautiful place.
My Internship
I'll start by talking about my human resources internship. I am working at a recruiting firm in Dublin. Basically, they specialize in recruiting for the Big Four accounting firms and the Top Five law firms in Dublin. They also recruit for any other businesses as needed, included international companies. Basically, it is PERFECT for me. Honestly, I don't think there could be a better fit. The work environment is awesome–there are two partners, who joined together to firm the company and one other consultant and then myself. We work in a cute building downtown and each have our own desk and computer.
It is Only Week One
My duties include: researching potential candidates, creating job descriptions to advertise on Irish job websites/college websites, inputting potential candidates information into the database, reaching out to clients to set up interview times, and conducting phone screenings for potentials–AND IT'S ONLY WEEK ONE. This is where the nerd side of me comes out, but I love it. I love my bosses and I love everything about my work. In fact, I mentioned to one of my bosses that we had a small fridge and 8 girls, and the next day she brought me a mini fridge to borrow for the summer!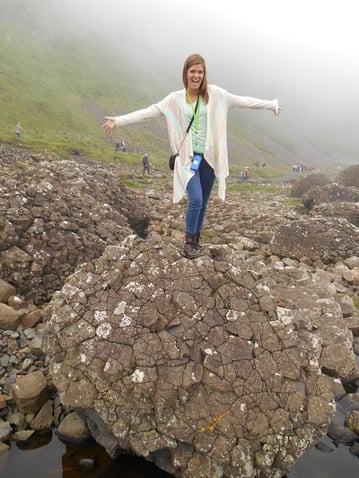 Adventures Around Northern Ireland
So, now that you heard the boring HR things I am doing, I'm sure now you would like to hear about the actual fun I have been having! I was able to go to Northern Ireland this weekend as well as the Guinness Factory. In Northern Ireland we went to Giants Causeway and Carrick-a-rede Rope Bridge, as well as tour the city of Belfast. All in all, the sites were absolutely breathtaking. It was pretty foggy the day we went, but it was still amazing. The bridge seemed scary at first when the guy almost fell in front of me…literally his jacket fell off the side and he reached over and barely caught it. Of course this happened in front of me. I was so scared when I saw it, but ended up walking across the bridge no problem. I'll let the pictures speak for themselves — but I don't think words could do them justice.

Irish Tip #1: Drink Slowly
We went out for drinks and nibbles. It was so much fun — I also learned they drink VERY SLOWLY. When I finished my drink and looked over and they were only 1/3 of the way done, it was just a bit embarrassing. It's not like I was trying to go hard or anything, I was just thirsty — but don't worry, I don't think they noticed–I slowed down for the next ones. All in all, my internship is beyond amazing and I cannot wait to see what other fun projects I will get my hands on this summer.
Irish Tip #2: Guinness Etiquette
I also went to the Guinness factory — which was amazing. I have a certificate honoring my Guinness-pouring abilities. I'll have it framed next to my diploma. Oh, and I made some friends with some locals at a pub the other night before I went to the Guinness factory, and the husband and wife actually bought my first Guinness. They even taught me how to drink it properly (yes, there is a wrong way to drink their beloved beer). Anyways, apparently if you don't let your Guinness sit for the proper amount of time and take the first sip like a champ it is frowned upon. Who knew. Also, I finally had some Irish stew–pretty tasty (not as good as my mom's though).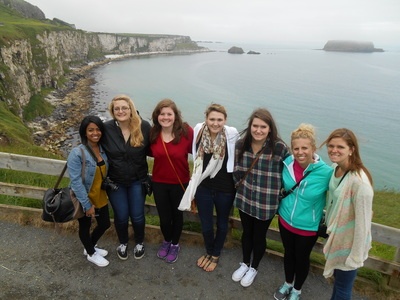 Irish Tip #3: You Will Walk… A Lot
My feet are KILLING me. Since we walk literally everywhere, my feet are definitely hurting. Good thing I brought some comfortable shoes. Also, random fact: I'm allergic to eyeliner sold here. It was a Revlon brand so I thought I would be fine…turns out I was wrong. So that was fun explaining to my boss why my eyes were puffy and bloodshot on my first week in Dublin.
Upcoming Trips:
This coming weekend I will be taking a trip to Kilkenny! I booked my trips to Italy and London and will be looking to book one to Portugal as well! Can't wait to get some stamps in my passport.