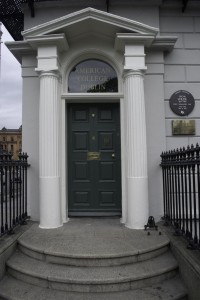 This was the old house of Oscar Wilde, the poet, writer and wit. He lived here between the years of 1855-1878.
It has now been converted to the American College, Dublin – like many other things become American in due time.
There isn't much to see here, as you are not allowed to go in, although it is still a very popular tourist spot for taking posing by the door and having your picture taken.

The building overlooks Merrion Square Park, which is a rather small park, nonetheless priceless on a sunny, dry summer day. It also hosts a statue of Oscar Wilde sitting on a rock.

As for the American College Dublin itself, it teaches English courses to people who want to learn English. Great place to learn it, as it is the first language in Ireland and not Irish.